La artista británica Jodie Mack presentó una conferencia en las salas de cine del CCU BUAP sobre la historia de la animación experimental el pasado 9 y 10 de enero de 2014. A invitación de la facultad de Artes Plásticas

, Mack hizo un repaso histórico por los juguetes ópticos, la abstracción en la pintura y el cine y la obra de animadores experimentales como Oskar Fischinger y Norman MacLaren.
La tarde del 9 de enero se proyectó el programa "Let your light shine" que reúne la producción más reciente de la carrera de Jodie Mack. En esta función, abierta al público con entrada gratuita, se apreciaron los cortometrajes experimentales de musica visual "New fancy foils" y "Glistening thrills" como introducción a la obra maestra "Dusty stacks of mom", en la que la británica coverea el disco "Dark side of the moon" en un brillante homenaje al negocio ahora en bancarrota de su madre, la venta de carteles. Las canciones y los videos de Pink Floyd deconstruidos en animación abstracta, juegos de luz e imágenes de la heroína de clase trabajadora, entre reflexiones sobre el consumo, la industria musical y el arduo trabajo de catalogación, se corresponden en talento y belleza con la ironía y el sentido del humor más fino y británico.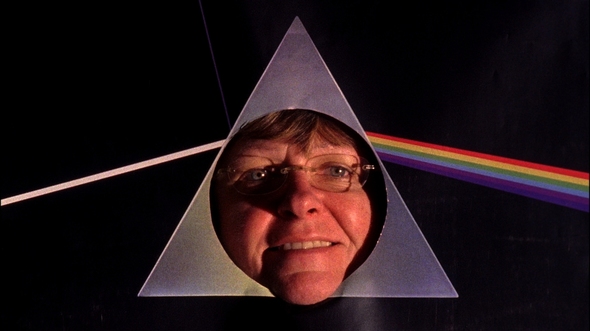 Dusty Stacks of Mom
El programa terminó con el corto "Let your light shine" para el que la audiencia se puso lentes prismáticos en un ballet mécanique de lineas formas y sonidos en pleno gozo del movimiento, multiplicados por tres, por mil, en una frenética búsqueda del maridaje de la imagen y la luz. Una alegría pocas veces conseguida y para la que se necesita de una artista mayúscula, una noche helada y unos lentes locos para ser articulada.